Hey, I like the new 'head' design. Sort of looks like a mechanical fist walking around to find something to punch!

Bill Hotch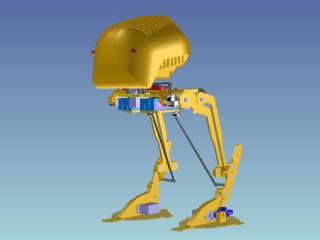 This shows the current new head design, and what it would look like if the bot were anodized in gold or yellow.
Keith Rowell Design
In the intrest of avoiding any conflicts with the Lucas Films guys in the future, I've been advised to avoid derivitive design based on the Star Wars AT-ST (though I love that design so much).
So all future work will be original in style, (all comments and critiques welcome). Hence the funky head shown in this week's update. Please respond with your first impressions. I will incorporate all ideas possible. Don't get stuck on this first one, The sky's the limit until it comes time put in the electronics and start testing. Lets hear your ideas...
The project has had many leaps forward this week.
First of all, IronCAD has chosen to sponsor the bot. So we'll be sporting the IronCad logo, on the bot it'self at all events...
The first parts have been made and they fit perfectly! I place the bearings into the lower ankle rod myself today, and they fit like a gove. You can spin this thing on the bearing and it runs forever, zero friction! I like it. Thanks to Stuart Rolf for his formidible experience, ability and generosity to provide the machine work. I can see 2:1, 4:1, ad infinitim scale versions of this in the future. Watch out world!
Draftech is expected to print out a copy of the new head shape on their 3D STL machine tomorrow, in abs plastic. Asuming I can get the file ready.
Another area I would like ideas on is weapons. I plan to enter it in the first (American) Robo-One competition,
http://www.robo-one.com/
which will probably happen next year. And a major requirement for competetiveness is the ability to get up when knocked over, and some kind of ability to knock over opponents. So get your viking battle magic thinking helmets on and offer some suggestions. I'll try and summarize the rules for that competetion here soon.
Keith Rowell